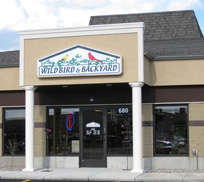 WILDBIRD & BACKYARD
680 North Westhill Blvd. 
Appleton, WI 54914
(920) 731-0601
(920) 996-1765 fax
The Wildbird & Backyard Newsletter
Our newsletter is available right here on our website for you to download in PDF format March 1, July 1 and November 1 (mark your calendars).
For those of you who prefer to have a paper copy, we will have copies available at the store for you to pick up and take home. We'll always look forward to your visit to our store, but we're now here online 24/7. We're excited we found another way to Go Green!
Click here to view Winter 2010 Newsletter
Click here to view archived newsletters
Watch the Squirrel Buster video - click here to learn more about squirrel proof feeders.
Featured Product
Reuse a natural resource with these new bird houses and feeders made from non-producing Mango Trees. Click here for more information.