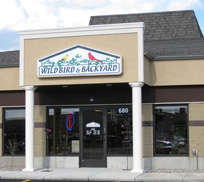 WILDBIRD & BACKYARD
680 North Westhill Blvd. 
Appleton, WI 54914
(920) 731-0601
(920) 996-1765 fax
Visit Us at Wildbird & Backyard
Welcome to Wildbird & Backyard. Thank you for visiting our store on the web. Our retail store was established at its present location in 1992.
We proudly offer you a high quality product at a competitive price, promising you "old fashioned service and advice" unequaled by anyone in the area.
The retail store offers the nature lover the largest selection of feeders, houses, chimes, and sundials north of Milwaukee. We also have a unique selection of backyard accessories, binoculars, and books.
Our custom blend bird seed contains no filler; it has been tested and proven "bird preferred" 2 to 1 over our competition in a study performed by the Orinthology Department of Lawrence University.
We hope you will be able to visit us in person. Otherwise, please use our online shopping feature and have your purchase delivered to your home.
Happy Birding,
Dave & Sue Tebo
Directions:
In Appleton, exit off Highway 41 at College Ave (Highway 125).  Go east to the first controlled intersection, which is Westhill Blvd., and turn left.  Travel just beyond the next controlled intersection and we will be in the third building on your right.
Watch the Squirrel Buster video - click here to learn more about squirrel proof feeders.
Featured Product
Reuse a natural resource with these new bird houses and feeders made from non-producing Mango Trees. Click here for more information.