14th Anniversary Celebration





It's difficult for us to believe, but this month of March marks our 14th year of Wildbird & Backyard ownership - and we're going to celebrate with you!

We're bringing back the discount dice - with every purchase you'll have the oppourtunity to shake a set of 3 dice. If you're lucky and shake the dice for a total

"14"

, we'll be pleased to present you with a 14% Discount Coupon Card that you can use on any purchase through May 31, 2014.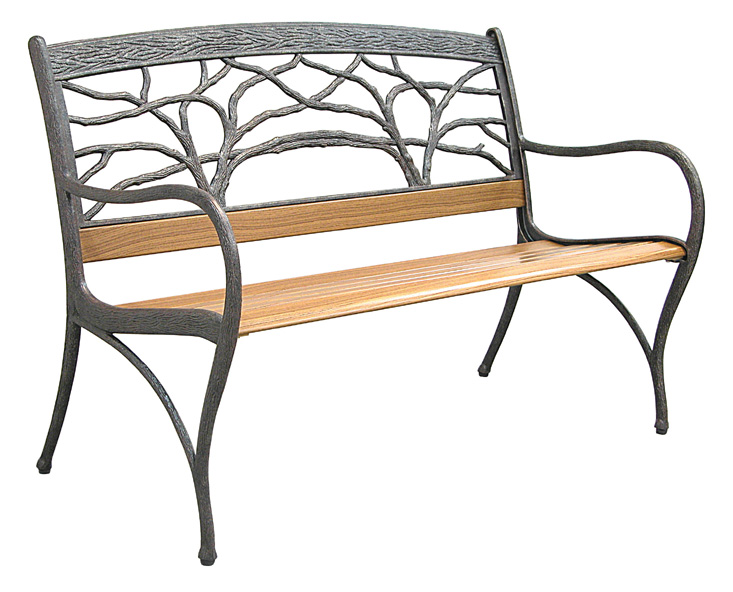 There also will be a drawing for 14 Door Prizes, no purchase necessary. Just enter your name and phone number for a chance to win. The drawing will be held on April 1st. Grand Prize is a Garden Bench (retail value $375), just perfect for relaxing in your backyard....plus 13 more smaller prizes. Enter - see if we can give you a lucky day!!

We enjoy seeing all our valued customers day after day, you're like our extended family. Fourteen years... we could not have done any of this without you, our faithful customers. There continually are new customers coming through our doors and we have to thank you, our current customers, for spreading the good word to your friends, family and colleages, creating new experiences for these folks as they too discover Wildbird & Backyard and we increase our birding family. As we begin our fifteenth year we sincerely want to thank you all for your support and patronage.




Is it Spring? When do Birds Migrate North?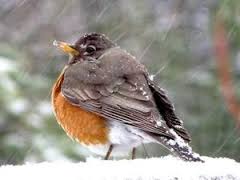 Wisconsin is the home to over 400 species of birds. This includes birds that are here only in the winter, year-round, only in the spring and summer, and those that pass through Wisconsin to reach nesting ground further north and/or wintering ground further south.

There are informative websites available to track the migration of a number of birds as they make their annual trek back to their summer habitats. Check out this one for tracking hummingbirds: http://www.hummingbirds.net/map.html And with hummers come the orioles. (They are still pretty far south right now)
Here is a list of some of our migrating birds and their estimated migratory arrivals and departures. Weather is always a factor in migration and can hasten or delay their travels.

Bluebirds can begin scouting out possible nesting sites as early as March.
Robins (a small percentage) can be year round in Wisconsin but you'll see them more frequently in your yard beginning early March
Red Winged Blackbirds ~ Beginning of March
Sandhill Crane ~ Mid-March
Turkey Vulture ~ late March to May
Ruby-throated Hummingbird ~ End of April/Early May
Purple Martin ~ Mid-April
White-crowned Sparrow & White-throated Sparrow~ pass through Wisconsin from mid-April to May. White-crowned is usually a week behind the White-Throated.
House wren ~ Mid-April
Baltimore Oriole ~ End of April/beginning of May
Warblers ~mid-May
Canada Goose ~ are year round in Wisconsin shifting to nesting grounds in March
Wood Duck ~ Mid-March
Dark eyed Junco ~ leaves to Northern Wisconsin mid-March to late May
Red-breasted Nuthatch ~ Early-April to late-May to Northern Wisconsin and Minnesota.



Migration Habits of the Eastern Bluebird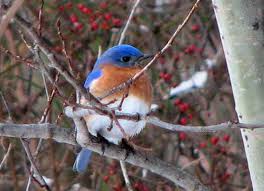 The Eastern Bluebird is a rare winter visitor in this part of Wisconsin, usually heading for warmer climates in fall, possibly staying here late into December. But in some of the warmer areas of the country, many are year-round residents. Often, the birds from Canada and the northern U.S. will just shift southward, leap-froging over areas with many resident birds in order to avoid competition for food. These birds will travel as far as Louisiana, Mississippi, Florida, and the southern portions of Alabama, Georgia and Texas.
Not all northern bluebirds exhibit this type of migration. Some will migrate shorter distances and remain with resident birds throughout the winter. They will face more competition for food but, if they survive, they will have the benefit of having a shorter migration distance to travel in spring, a head start, you may say, and may be the first to return to their breeding area. This gives them the benefit of being able to claim the most desirable territories.
There is a certain percentage of eastern bluebirds that make no attempt to migrate south for the winter.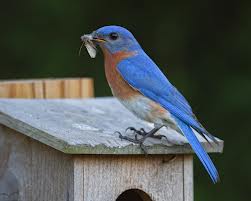 Many researchers believe that weather has little to do with the number of non-migrating bluebirds. They believe instead that migration has a genetic basis, with some individual birds programmed to migrate and others not.
During mild winters, more bluebirds are noticed in northern areas, but it probably just means that more have survived the milder conditions. During the coldest months, bluebirds tend to stay in very sheltered areas where they are protected from the cold winds, snow and ice. Because they don't come out in the open as much, they aren't as visible to us.
With the lengthening of daylight in January and February, migrating eastern bluebirds become more active and begin their northward migration. Weather has a greater influence on the northern movement than it does with the southern movement. As the mean temperature begins to remain above freezing, bluebirds begin to appear. Consequently, eastern bluebirds are usually one of the first migrants to return to their breeding areas, usually returning as far north as southern Canada by early to mid-March.



Fun with Old Wives Tales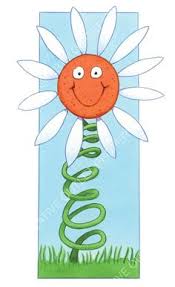 Some say spring arrives when they see the first robin others wait to hear the red-winged blackbirds announce their arrival. A few of us may check with the Farmers Almanac to see what to expect in the upcoming weeks. I found some old wives tales to share – we all need to smile more! So keep ants away from your front door, look for robins, knit in the kitchen and be careful what you do on Fridays!!
If ants build their home near your front door, expect financial security and money rises in the future. Seeing ants carrying their eggs is an omen of very bad weather
A wish made on the first robin you see in spring will come true, as long as you finish your wish before the robin flies away
In late winter, do not sit at your front door step to do your knitting, as that could lengthen the winter well into spring.
Spring is coming ~ Be careful when doing your household chores, bad luck to turn your mattress on a Friday, and remember that if you turn it from foot to head, you'll never wed. Even changing your sheets on a Friday will bring nightmares to your sleep.

Bring Birds Up Close with Window Feeders and Houses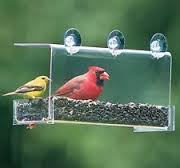 Window feeders are an excellent way to view the birds in your backyard up close and are often more convenient than other types of feeders. Window Feeders are ideal for bird lovers in apartment buildings, individuals who have limited access to the outdoors, or those who simply enjoy seeing the birds up close.

The size of the window feeder that you need depends on how many birds you would like to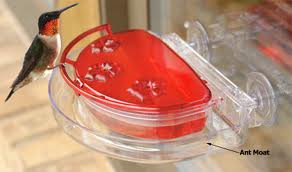 feed at one time and how frequently you will be able to refill the feeder. Most window feeders that are attached to a window will accommodate a small number of birds feeding at one time and have a capacity of as little as 1-2 cups. Most of these feeders work like a Hopper feeder with an enclosed area for seed storage but a few are more open, like a Platform feeder, which will allow for some larger birds to come and eat with ease. To offer food for every type of bird we also stock window suet feeders, window oriole feeders and window hummingbird feeders.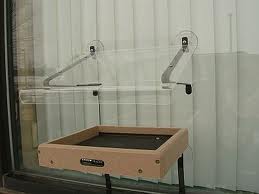 After finding a window feeder that is compatible with your windows, place the feeder in a window that faces an area that is attractive to the birds, is easily viewed from inside the house, and is easily filled either from inside or outside of the house. They may be placed on your window during any time of the year. Nearly all types of birds that are

typically attracted to feeders will use a window feeder. Some birds, however, may be excluded by smaller window feeders or may be more suspicious of window feeders. For more skittish birds, you may want to consider using a feeder with a two-way mirror. It is recommended to check a feeder's description to determine what types of birds are likely to use the feeder, and what types of seed can be used with the feeder.

Hung by suction cups, some people question the long term stability of window feeders. If properly placed, suction cups should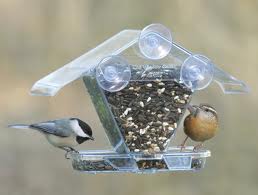 hold your window feeder indefinitely. When mounting your feeder, ensure that both the window and the inside of the suction cups are clean by rinsing them with warm water. Coating the inside of the suction cup(s) with a small amount petroleum jelly or cooking oil will further enhance the seal. After fixing the suction cups to a window, it may be necessary to squeeze out air bubbles by pressing your thumb from the center toward the outside; this should guarantee a clean, firm seal between the window and the suction cups.



Window feeders typically do not increase the likelihood that a bird will fly into your window; in fact, window feeders are likely to decrease the chance that a bird will fly into your window. Birds tend to fly into clean windows or glass when they see a reflection of the sky. By installing a window feeder, birds will be more likely to see and avoid flying into your window. Wildbird & Backyard has products available that can help reduce window hits should you have a problem. Window decals may be a useful way of preventing birds from flying into your windows by making your windows visible.

As far are maintenance, window feeders, like all bird feeders, should be cleaned on a regular basis. Most window feeders are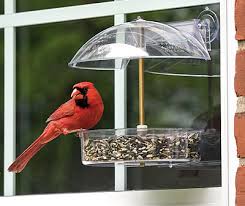 very easy to clean; some may need a simple "sweep," while others may need to be cleaned more thoroughly. There is no set schedule for cleaning a window bird feeder; just use your judgment and be conscious of any change in bird activity.

Remember, birds can be selective when it comes to feeders. There may be a variety of factors influencing a bird's use of your feeder. If you are not have visitors to your window feeder you may simply be living in an area that doesn't attract birds as a result of few flowers, shrubs, and trees that they prefer. Conversely, you may live in an area that has many food options and they are happy where they are currently feeding. Another influential factor might be your seed selection. If you are using a seed mix that is specific to certain birds, other species may have moved to a different location. To attract a greater variety of birds, clean your feeder thoroughly and replace the seed mix with something that appeals to more birds, such as black oil sunflower seed (the sunflower chips work extremely well). If you have just put out a window feeder, it may take a month or more before the birds to discover and trust your feeder.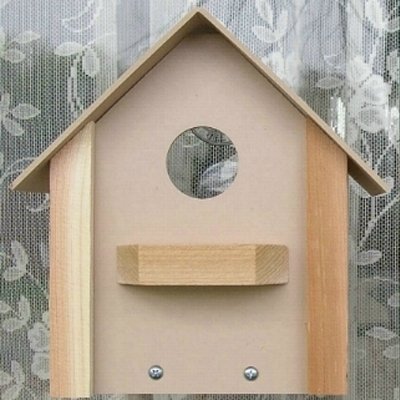 Many people have come in looking for a window bird house. Unlike the one
recently advertised on television, we have one that works great for the birds as well as the inquisitive bird watcher. Just like watching the birds eat up closely, you also can enjoy watching birds build they nest outside your window, the hatching of the eggs and the activity of the nestlings. Our house has a black privacy shield included that can be pivoted to watch the activity, then pivoted back to allow the birds their undisturbed privacy. By nature, birds know that evening brings darkness and without a black shield to cover the back of the house, their nest would be exposed to your internal incandescent evening lights – they wouldn't have their evening dark privacy, it wouldn't be natural for them. Made in the USA from western red cedar and beige PVC foam, this house is mounted with suction cups and measures 6" x 7" x 8" high. Potential residents: wrens, chickadees, goldfinch, purple finches, bluebirds.

New Products for the New Year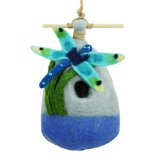 New products are arriving and a number of them will truly are a bit out of the ordinary. We've enlarged our selection of "Wild Woolie" bird houses - each one is more colorful and cuter than the next. The unique designs of these felt bird houses will surely create a smile on the beholder, a terrific price, functional, fun and a guaranteed smile. They are a Fair Trade item, made in Kathmandu, Nepal, by people who are paid a fair wage for their work. The houses are made of 100% naturally water repellant wool, dirt resistant, mold resistant, and used by wrens, nuthatches, chickadees and finch. Come in and see how quickly they'll generate a smile on your face.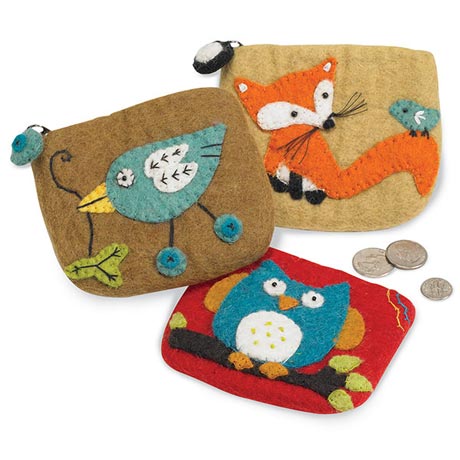 A similar Fair Trade item, felted wool coin purses come in 4 different designs. These adorable pouches are a great place to stash coins, credit cards, etc. Each fuzzy pouch is hand-felted wool, hand-stitched and appliqued, lined with cotton. Measuring 5" x 4" they are complete with a zippered top. Made in Nepal.
Made right here in Wisconsin, come see our collection of colorful, whimsical glass bird stakes. Each one has its own colors and personality, hand-made, signed and dated by the Wisconsin artist. They stand 36" high and screw into the stake for stability and sustainability.
For the past year we have watched your fascination with our balancing "Drunken Dragonflies" - dragonflies hand made from recycled stainless steel silverware. The double dragonflies or dragonfly with leaf will twist, turn and bounce with the wind but never fall down.... a true piece of talent and great conversation piece. Now we have added to our "silverware decor" with more styles of garden stakes hand made from stainless steel silverware. We have spoon butterflies and spoon/fork flowers to decorate your flower beds. These fun pieces are on 36" stakes, solidly made for years of enjoyment. Made in USA.

And more to come.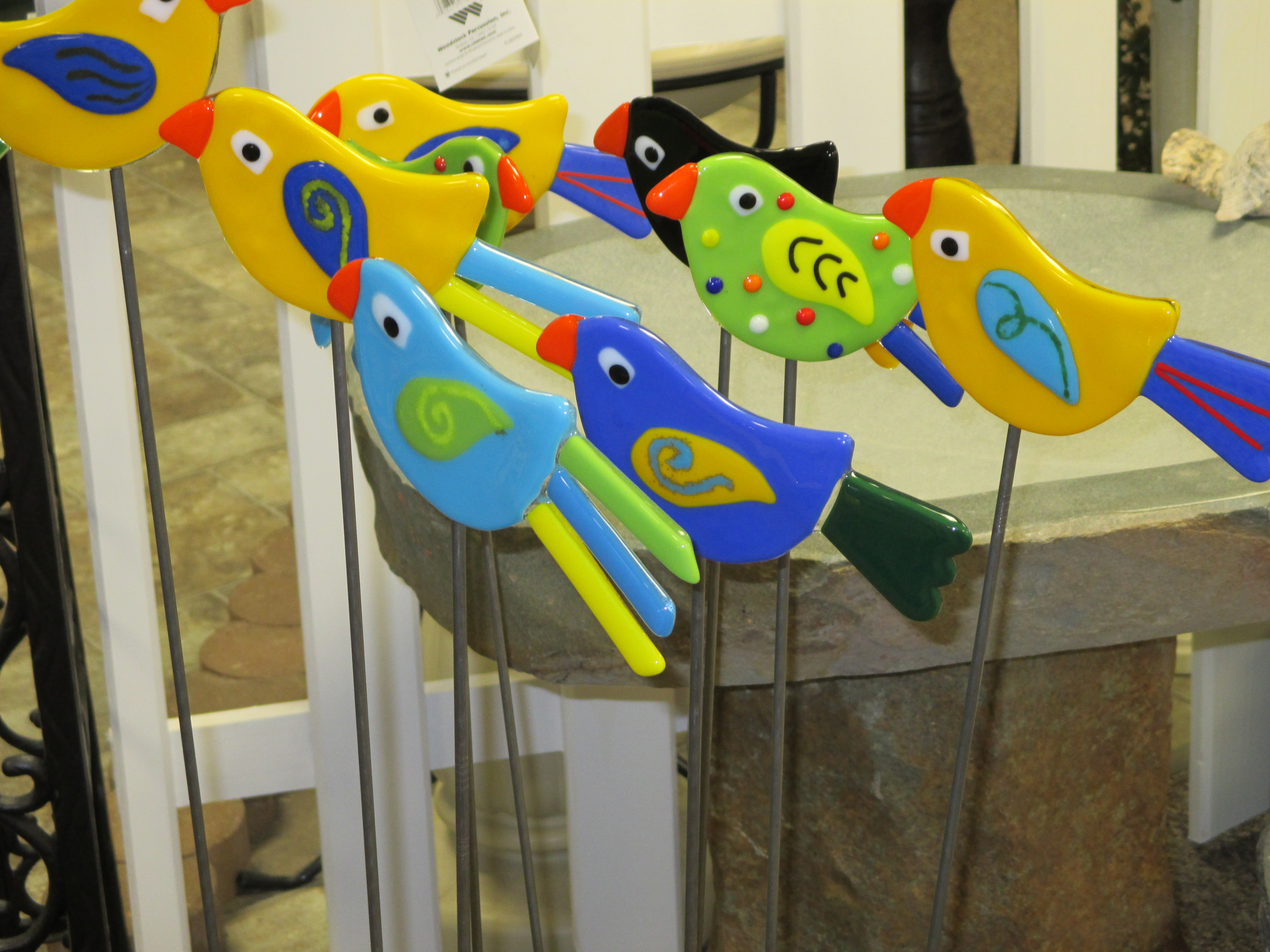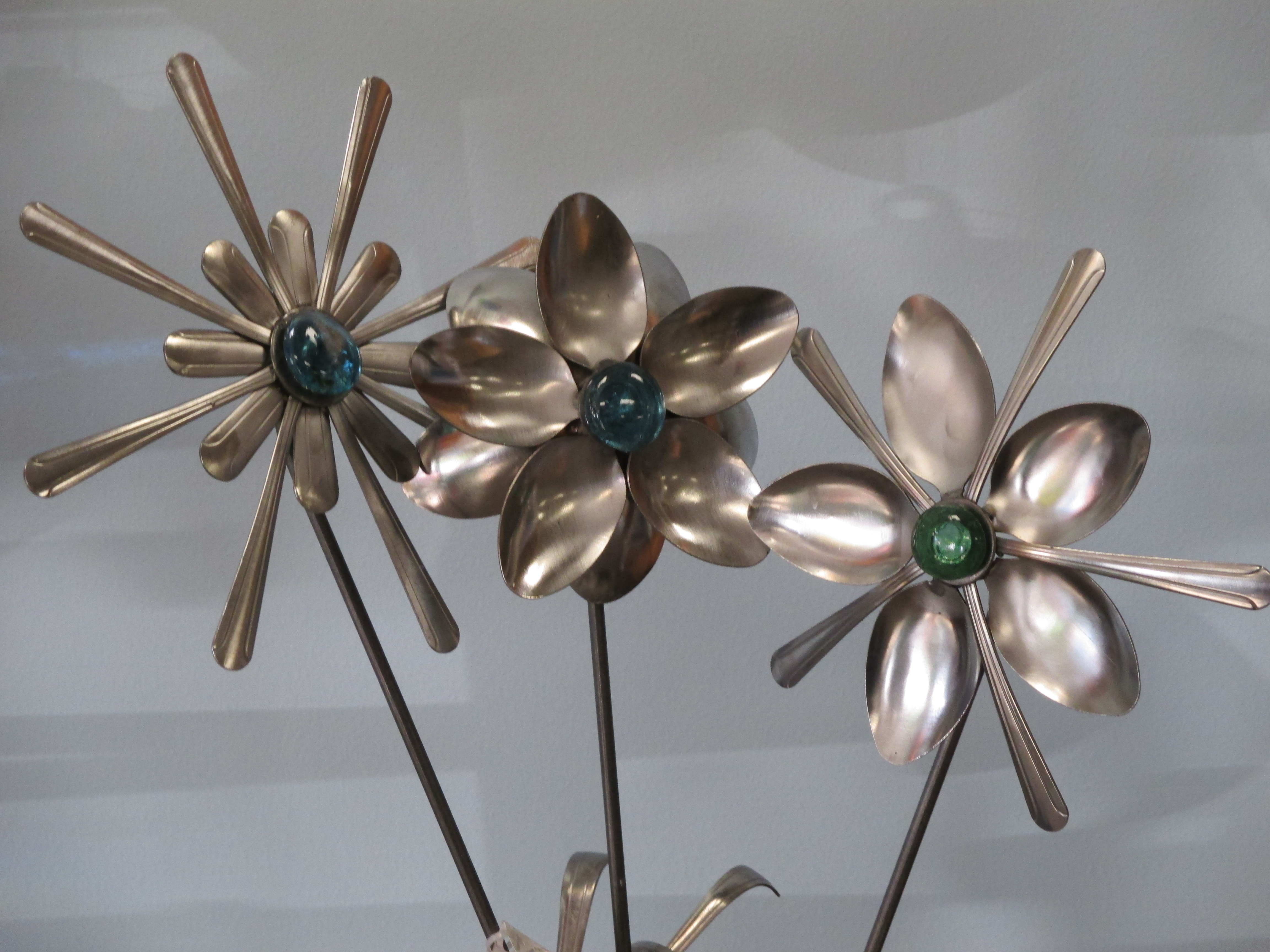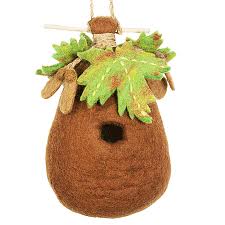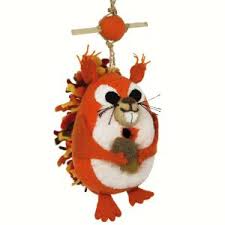 Mike's Message
Looking back 14 years I remember the day we purchased this store. We signed all the documents (signing our lives away) in the morning and then went back to the store to make some internal transfers. Pat had taken the day off from her real job for this special day and at 1pm we unlocked the front door with shaking knees.
As many of our long-standing customers know, over these years we went through two major additions at our former location and then moved the whole store 1 ½ years ago. Thinking back it makes me feel a bit tired! The years have been fantastic and I have loved almost every minute. This is all because of you, our loyal customers. Thank you!!
As detailed above, we're celebrating these 14 great years with Discount Dice and a special prize drawing. And don't forget to come in and participate in our "Come In and Win" event - we've already had one winner from our store.
There have been a good number of people reporting robins wintering in Wisconsin this year. We don't know why the larger numbers remained this year, especially when it has been a winter to go down in the record books with extreme cold and new records set for lowest temperatures. What should you feed them? I suggest mealworms, raisins (or other dried fruit), crushed insect suet, peanuts and suet nuggets.
As far as our never-ending winter, if you have been feeding the birds, don't stop now. The birds might be finding some food in the natural but the snow cover is still thick and icy and they are relying on your feeders and heated bird baths to find food and water, to find nourishment to be able to keep as warm as possible and stay alive. Please continue to keep your feeders filled.
Thanks again for a wonderful 14 years.
Happy Birding, Mike, Pat and Staff