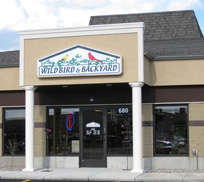 WILDBIRD & BACKYARD
680 North Westhill Blvd. 
Appleton, WI 54914
(920) 731-0601
(920) 996-1765 fax
Watch the Squirrel Buster video - click here to learn more about squirrel proof feeders.
Featured Product
Reuse a natural resource with these new bird houses and feeders made from non-producing Mango Trees. Click here for more information.