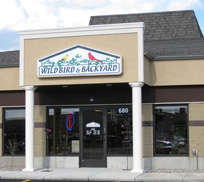 WILDBIRD & BACKYARD
680 North Westhill Blvd. 
Appleton, WI 54914
(920) 731-0601
(920) 996-1765 fax
Welcome to Wildbird & Backyard
The Fox Valley's source for all your
backyard birding needs.
Backyard birdfeeding is the most relaxing, fulfilling, educational and exciting hobby that anyone, regardless of age, can enjoy.  According to a recent Census Report, 65 million Americans enjoy wildlife by feeding the birds.  And best of all, this hobby can be enjoyed individually, with a group, inside, outside, everyday and everywhere.  Backyard birds are an amazing gift of nature, given to all of us and all we have to do is open our eyes.  Just put some food outside your window and a feathered friend will show it's appreciation and make an appearance.  That's all it takes.
At Wildbird & Backyard, we're prepared to help you appreciate wild birds, to help you attract and feed them or help you create a beautiful birdscaped backyard habitat.  We specialize in all backyard bird-related nature products along with garden decor.  It's our mission to bring the best quality at the best price, utilizing mainly products made locally and/or in the USA.  Many of our products are made of recycled materials to benefit our Earth and help leave a better world for future generations. 
Whether you are a birding novice or a world-traveled birder, you'll find what you need at Wildbird & Backyard.  We can make different product recommendations for you—advice is always free! 
Visit us in person, we'd love to share our common love of nature with you.  If you're not in the area, we thank you for visiting us online.
Watch the Squirrel Buster video - click here to learn more about squirrel proof feeders.
Featured Product
Reuse a natural resource with these new bird houses and feeders made from non-producing Mango Trees. Click here for more information.